By guest writer Halacy
The year was 1980-something it was the time of Reagan, Alf, high-tops (both the shoes and the hairstyle), acid washed skinny jeans and cocaine. The Hollywood movie scene was booming, plus nightclubs and drive-in diners were illuminated with neon lights. Fast-forward to the year 2000-something we have mobile phones smarter than the Apollo 11 shuttle, wireless tablets and 3-D televisions. Much to a surprise people are wearing skinny jeans again and Alf is trending on twitter. Lastly, a long line of video games has been created with 80's themes and archetypes. Here are several games that feature an inspired 80's look to them, whether you're into action or the revival of a popular franchise that bloomed during that time.
---
Neon Drive

Neon Drive is a slick retro-futuristic obstacle-dodging game that will make your heart pound and have you looking for your keys to the DeLorean. It's completely inspired by the 80's through and through, whether it's the ridiculous neon lighting that you'd find in any given nightclub in the era or the over-the-top sci-fi action resembling cheesy 80's fare like Tron. From beautiful cityscapes and ocean roads to exploding enemy spaceships, Neon Drive has it all. It's inspired by the arcade games of the 80's, but set against a futuristic backdrop of glowing cyber-grid, all in silky-smooth retina (HD) graphics. Neon Drive brings you 3 amazing levels, adding up to hours of enjoyment. Each level features multiple twists, perspective changes, keeping you on your toes (err, wheels) throughout the gameplay. And the soundtracks are original synthesized music, perfectly tuned and in sync with the roadblocks and your enemies
Neon Drive will put your mad dodging skills to a real test while mercilessly pushing the limits of your reaction time and short-term memory to avoid obstacles and dead-ends. Seriously, this game is wicked; just when you think you've got the hang of it, it turns the table on you. This allows you to just tap to the beat, unplug, and Zen out. Watch the landscape seamlessly morph from one scene to the next, in a ballet of colors and shapes, and let your inner driver take the wheel. but if you can finish all 3 levels, then you hereby certify have superhuman abilities!
---
Lips: I Love The 80s
Lips: I Love The 80s, is exclusive to Xbox 360 and will keep the singing party with family and friends going all night long! The game takes you back to a time when hair was big and shoulder pads were bigger! The game includes 40 of the most memorable tracks of the 80s including iconic hits like Spandau Ballets Gold, Kim Carnes Bette Davis Eyes, and the feel-good classic Walking on Sunshine by Katrina & The Waves. But… the reason to buy this game is because you can attach your iPod to it and sing every 80's song that you own. Let me tell you, being able to sing a bunch of obscure 80's songs that none has ever heard of, that nobody else likes but you are awesome. So, put on some neon legwarmers, some bright tights, and get ready to sing like you're back in the era that style forgot, but that music loves!
---
Kung Fury: Street Rage
The synopsis to Kung Fury: Street Rage is detective Kung Fury and his partner Dragon apprehend a red ninja in a back alley, but Dragon is sliced in half by the ninja while Kung Fury is suddenly struck by lightning and bitten by a cobra, giving him extraordinary kung-fu powers that enable him to defeat the ninja. Meanwhile, Adolf Hitler, a.k.a. "Kung Führer", enters the timeline and attacks the Police precinct through a mobile phone an 80's arcade machine. Kung Fury has a computer whiz named Hackerman send him back in time to kill Hitler in Nazi Germany.
Kung Fury: Street Rage not only brought back beaming memories of the classic beat 'em-ups but is also based off the short film. The game is filled with plenty of tongue-in-cheek humor, whether it's main boss Hitler cracking all-too-obvious jokes to himself or in-game decor that matches what you'd find in any given Dolph Lundgren action film. (Yes, we're looking at you Showdown in Little Tokyo.) The game balanced this act with the kind of raucous fighting action that beat 'em-ups had become known for, pleasing both long-time fans of the genre and newcomers alike.
---
Far Cry: Blood Dragon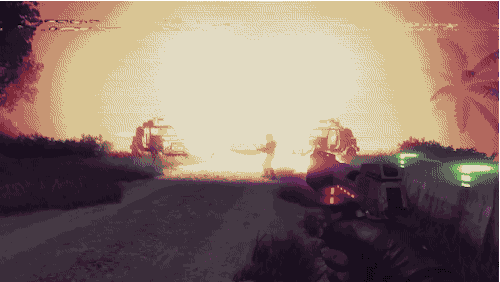 Everything in the game is based off of B-rated movie aspects from the 80's, when movies such as Rambo and Robocop were very popular. It takes most of the first-person shooting mechanics of last year's critically praised Far Cry 3 and wraps it around a ridiculous 80's universe. It is packed with neon colors to over the top voice-overs. It is intended to be a fun, campy game, but the danger is still very palpable and can result in a quick death if not taken seriously.
The setting is in an alternative 2007, where the "apocalypse has had an apocalypse", and a Cyborg army called the "Omega Force" is trying to take over the world, or what's left of it, by trying to find a bioweapon that is hidden on a distant island. The fate of the world is in the hands of Sergeant Rex Power Colt, who is a Cyborg that came from the Toxic ashes of Vietnam War II. Rex is out for revenge, intent on hunting down his former cyber-commanding officer. Rex Colt voiced by veteran actor Michael Biehn (star of 80's favorites such as Terminator and Aliens) as he battles against any poor soul who manages to get in his way. Missions range from capturing outposts (controlled by the Omega Force) and hunting gigantic dragons that shoot lasers out of their eyes. Rex can assume control of these creatures once he tears the hearts out of enough of his enemies.
---
Hotline Miami None of the games will give a perfect depiction of the 80's and that's fine, that's why we have games that are homages to the era and have treats from our own era. Hotline Miami has a retro soundtrack, flashy visuals and energetic gameplay; however, it has a very post-modern abstract story line. What I mean is the 80's pop culture was mostly focused on fun and that is how we remember the era. In the 2010's are smothered in pretentious metaphors and allegories and so is Hotline Miami, it's a dreamlike trip going into the minds of two people who are insane. In various parts of the game one of the two protagonist question what is life too often while the other tends to cry a lot and constantly explore his sensitive side. The only time these two have their shit together is when they are either committing homicide or hallucinating. The story consists of two protagonists who have been receiving phone calls instructing them to commit massive murders from left and right. The game blends top down perspective with extreme violence. The game itself was influenced in part by Nicolas Winding Refn's 2011 neo-noir crime film Drive, as well as the 2006 documentary Cocaine Cowboys. At release, the game received very positive reviews from critics, with praise regarding the themes, soundtrack, and gameplay, and has since became a cult video game.
–